Dedication Ceremony for Bro Robert Muir Somerville Past Master and Bro David Mudie
Brother Bob as he was known to us all was initiated within the Oswald of Dunnikier Lodge no 468 on the 23rd of May 1955 and was Master there of from 1966-1968.
He affiliated to Lodge Sir Robert Moray no 1641 in 1987 and was Master thereof from 1998-2000.
He was a reponing member of the Lodge of Kurrachee no 337 in 1988.
His ability and his enthusiasm for freemasonry in general and for the Province of Fife and Kinross in particular was recognised by Brother the Earl of Elgin and Kincardine who as provincial grand master commissioned Brother Somerville as Provincial Grand Secretary and thereafter as Substitute Provincial Grand Master offices which he served with great distinction.
Brother Somerville was elected to Grand Committee and served there for over thirty years.
He was chairman of the Bye-Laws Committee from 1990-1992 and many other Committees within Grand Lodge.
He was also a representative of the Grand Lodge of Arkansas.
In November 2003 Brother Bob was appointed as Substitute Grand Master Mason of Scotland and carried out his duties of that high office with great commitment.
Having initially worked as an apprentice joiner in Burntisland shipyard he joined the Fife Constabulary in 1954 as a police constable and during that time was involved in a serious road traffic accident in Edinburgh he was in the Princess Margaret hospital for many months.
Brother Bob was ever present at his mother lodge until his death on the 5th of July 2008 and as a token of respect the R W M Bro Ian Mackenzie and the Brethren of the Lodge have commissioned his memorial regalia which they have encased and will be Dedicated to the lodge on December 13th by the Provincial Grand Lodge of Fife and Kinross.
The R.W.M would like to thank PM Bro Ian Lawson for having had Bro Bobs regalia encased.
On the same evening,our well known Bro.David Mudie will be honoured by Provincial Grand Lodge who will present him with his 50th year diploma and jewel and praised for his long service to the Craft Bro David was initiated into the Oswald of Dunnikier Lodge on the 28th of September 1960 passed to the fellowcraft on the 12th of october 1960 and raised to master mason on the 9th of january 1961 has served his mother lodge with great dignity. See Below for Davids Sixtieth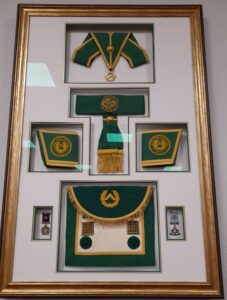 Bob Somerville's Regalia redone 2023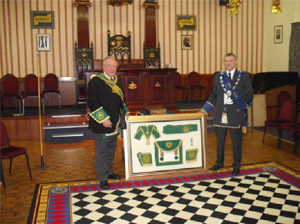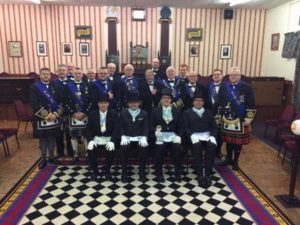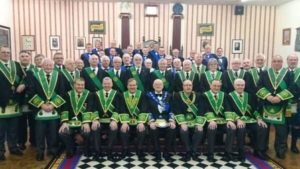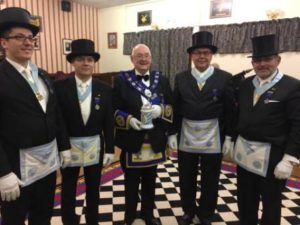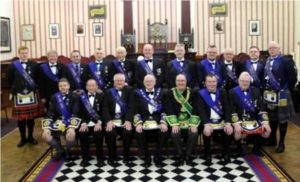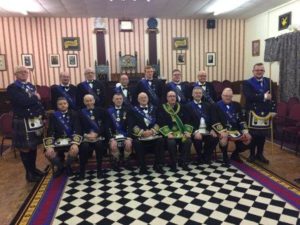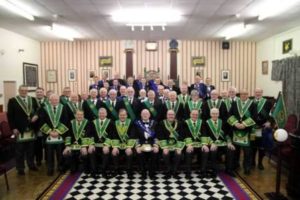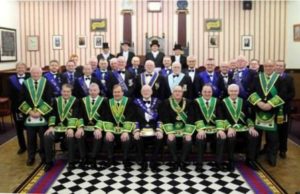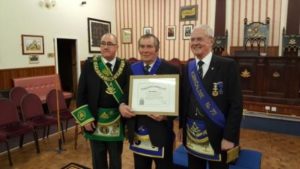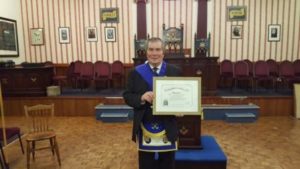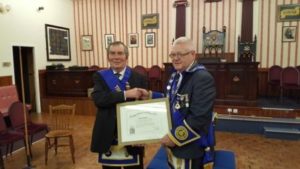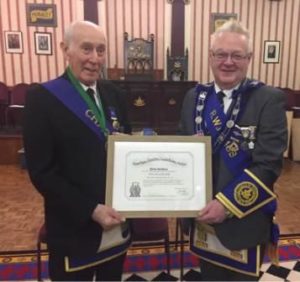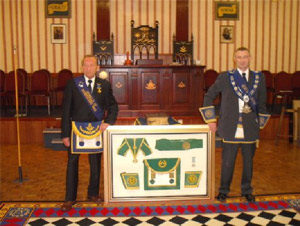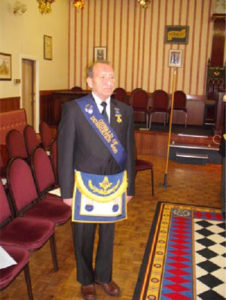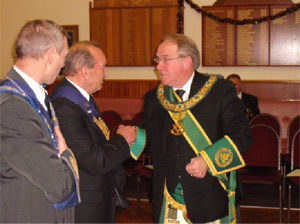 Announcement
A special meeting was called On the 5th June 1893 with great sorrow we hear of the death of Bro Major Oswald Provincial Grand Master transcripts of the letter of sympathy and condolences to mrs oswald along with her reply are inscribed in the minute book.In tribute to the memory of the late Grand Master
On the 25th November 1893 The Provincial Grand Lodge of Fife and Kinross held a Funeral Lodge in Kirkcaldy to the sacred memory of our late Provincial Grand Master Bro Major James Townsend Oswald
Annoucement
Roll of Honour for Fallen Members of lodge Oswald of Dunnikier 468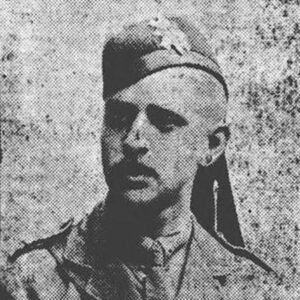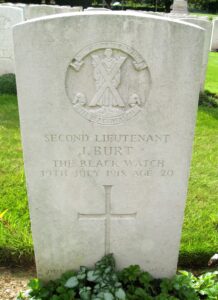 2nd Lieutenant James Burt son of Past Master James Burt  1984-1986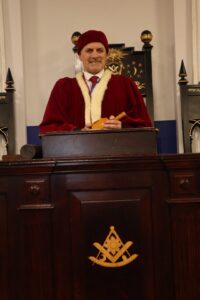 Bro Ian Mackenzie Installed as First Principal Kirkcaldy Royal Arch Chapter no 97 2022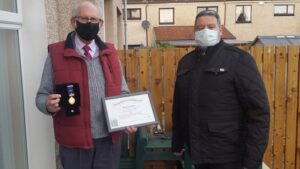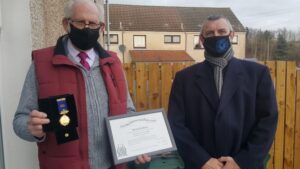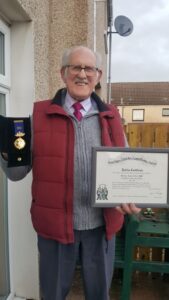 Bro John Collier Receiving his fiftieth Diploma and Jewel from R.WM Bro John Cairns
and Secretary P.M  Ian Mackenzie

Bro David Mudie Receiving his Sixtieth Diploma and Jewel from R.W.W Bro John Cairns and Secretary
P.M Bro Ian Mackenzie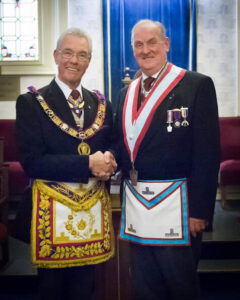 Somewhat to my surprise, and to that of many others I suspect, Ian was born and bred in Macclesfield but, sadly his Father died when he was six and the family moved to Glasgow whence his Mother hailed. He completed his schooling and took up an apprenticeship at a Steelworks, which then enabled him to train as an Engineer with British Bakeries where his whole working life was spent, but in numerous locations, finally West Yorkshire in 1989.
His Masonic journey began when he was, on the 9th October 1969, Initiated into Lodge Tollcross No 1194, Glasgow. Advancement into the Mark lodge then followed on 4th June 1970 hence his fifty years is now complete. Work took him to Kirkcaldy where he was exalted into Royal Arch Masonry at Kirkcaldy Chapter No 97. He also joined Oswald of Dunnikier Lodge No. 468 where he became Master in 1987 and at the same time 1st Principal at Kirkcaldy Chapter and under this banner he was Installed as the W.M. of the Mark Lodge. In March 1991 he became a member of Horsford Lodge No. 5339 having established his move to West Yorkshire, subsequently taking early retirement in 2006, and became the W.M. in April 2000, later becoming the Lodge Secretary in 2002, a post he still holds. Very sadly his wife, Iris, died in 2013, but after a period of reflection he was prevailed upon by long-time friend Barry Massam to join Wharfedale Mark Lodge in April 2015 where he was subsequently Installed as WM in 2018. Shortly after that both Barry, and sadly missed friend Graham Cooper, proposed him into White Rose Lodge No. 77, Allied Masonic Degree.
In March 2017 his good friend John Clough supported by R.W.Bro. Jim Steggles "persuaded" him that he really wanted to join Claro Lodge of Royal Ark Mariner No. 525, he enjoyed it so much he became a founder member of the Rugby Football Lodge of RAM No. 1965 the following year. By now he had lost the ability to say no and the late David Cordell, District Grand Master for RSM, asked him if he would be his next District Recorder for West Yorkshire. When it was pointed out that he was not a member, the reply was "Oh that's not a problem" and neither was it as by the following meeting in August of 2018 he was appointed and invested as District Grand Recorder. This was just before he was appointed and Invested in November 2018 as Provincial Assistant Grand Scribe E, an office he still holds. By January 2019 Cloughie, once again, convinced him to join Secret Monitor and introduced him into Claro True Friendship Secret Monitor No.4.
​
Ian is a very enthusiastic and committed Freemason, a jovial, friendly character welcomed wherever he goes, long may it continue, Congratulations on achieving this superb milestone.
Announcement
The historical sketch of the lodge would not be complete without mentioning the name of Bro David Deas R.W.Master 1921 and 1922 who died on 26th may 1958 Bro Deas was a very familiar figure in our assemblies and dominated that position for over 40 years holding continuously the office of chaplain and also as proxy from the Lodge  at Grand Lodge he was also a faithful member of the Provincial Grand Lodge attaining the rank of Provincial Grand Senior Warden and also conferred with Honorary Grand Architect by Grand Lodge Bro Deas was held in high esteem in all branches of masonry of his association and the Lodge in mourning his demise was compiled and ably delivered as inscribed in the minute book by Bro Thomas Simpson Secretary
Announcement
On 12th June 1961 it is with regret that we learn of the passing to Grand Lodge above of P.M Bro William Hampton Carron Bro Carron was Initiated into the Lodge on the 2nd June 1913 He was Master of the Lodge from 1918-1920 and again from 1940-1942 completing 58 years membership He was Also the Founding First Principal of the Royal Arch Chapter St Serf of Dysart no 514 and was a member of many other Masonic Orders
Announcement
The Right Worshipful Master and all the past masters and brethren regret the departure of Past Master Brother Tom Mackie to the Grand Lodge above.Brother Tom Mackie was a Past Master of The Oswald of Dunnikier Lodge No. 468. I think his last office was as Tyler to the Grand Lodge of Scotland. He was a member of the League of Commissionaires until about his 80th year. Recently, Tom had suffered from dementia and passed away in his 89th year last month.
Announcement
Brethren I regret to inform you that Robert H.L.More P.M.died on Sunday the 11th of November
He joined the Craft in the old Halls at Charlotte Street Kirkcaldy aged 29 years
His 1st degree was on October 26th 1970
His 2nd degree was on November 9th 1970
His 3rd degree was on December 14th 1970
and received his Mark on May the 8th 1972
He worked as a coachbuilder with Alexanders bus garage and was well known for his Scotish country dance band
He persevered through the ranks and became R.W.M. in -1980
after which he was secretary from 1987 until 1991
He was also a member of Provincial Grand Lodge for a time until his band bookings overcame his provincial dates and the band took precedence
He suffered a long time through his illness but is now at peace in the Grand Lodge above.
Announcement
Brethren it is with sadness that i must inform you of the passing of out RWM Bro Andrew Bryce who died on monday the 11th march 2013
Andrew joined the craft at Forth Avenue Kirkcaldy
His first degree was on the 13th of January 1992
His second degree was on 19th of March 1992
His third degree was on the 20th of September 1992
He received his mark on the 14th of May 1993
His first office in the Lodge was as Almoner and then Architect
His first Progressive Office was that of Junior Deacon in 1995
Senior Deacon 1997
Junior Warden 1999
Senior Warden 2002
He became Master of the Lodge in February 2004-2006 and was IPM from 2006-2012
He then took the chair once again in 2012 till his sudden departure in 2013
Andrew also became a member of the 18th degree in 2011
He will be sadly missed by all the Brethren of the Lodge and the Brethren in the Province of Fife
Announcement
Brethren it is with sadness that i must inform you of the passing of P.M Bro George Reid  who died on  the 16th July 2022
George joined the Lodge  on the 10th April 1967
He Progressed though the various offices before attaining the Chair in 1984 serving two years
On 28th February 1993 George was installed as Secretary of the Lodge a position he held until February 2015 serving the Lodge for 21 years
That evening February 27th 2015 George was Installed as Lodge Chaplain a position he held until his Passing
On 24th 2016 November George was Nominated for Honorary Grand Rank by the Grand Lodge of Scotland
On 10th 2017 April George was presented with his 50th year Diploma and Jewel
On 9th March 2018 George presented the lodge with a set of wooden working tools he had made
George's Health started to decline but his love for his Lodge never stopped him from attending when he could manage
Brother George passed to the Grand Lodge above on the 16th July 2022
George will be missed by all that knew him
---