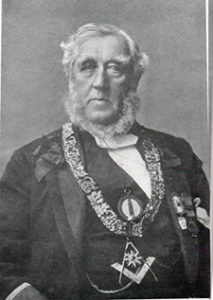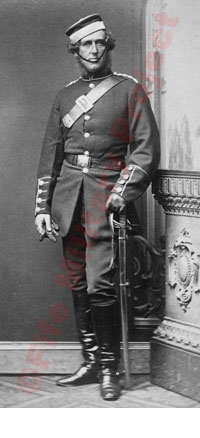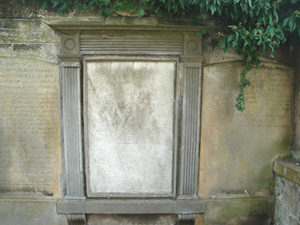 Major James Townsend Was Our First Right Worshipful Master In 1867-1870 And Was The Provincial Grand Master Of Fife And Kinross From 1884-1893
Major James Townsend Oswald, Dunnikier, died in his town house, London, on 2nd June 1893, in his 72nd year. He succeeded to the estate of Dunnikier in 1840 on the death of his father, Sir John Oswald. In 1848 he married Miss ellen octavia Miles of Leigh Court, Somersetshire. He served with the Grenadier Guards, Atholl Highlanders and was one of the founders and main supporters of the Fife Light Horse. he contested Kirkcaldy Burghs on 1874 and Fife County in 1880 in the Conservative interests but was defeated on both occasions. He was an office bearer of ST Peter's Episcopal Church.
Result of the General Election for Fife 1870
Elections in the 1870s
General election 1874: Kirkcaldy Burghs [7]
Party Candidate Votes % ±%
Liberal Robert Reid 1,967 61.6 N/A
Conservative James Townsend Oswald[10] 1,228 38.4 New
Majority 739 23.2 N/A
Turnout 3,195 84.8 N/A
Registered electors 3,766
Liberal hold
An exract taken from the london gazette
War Office, November 22, 1892.
HER Majesty the Queen has been graciously pleased to confer the Volunteer Officers'Decoration upon the undermentioned Officers of the Volunteer Force, who have been duly recommended for the same under the terms of the Royal Warrant, dated 25th July, 1892 :—
NORTH BRITISH DISTRICT.
LIGHT HORSE.
1st Fifeshire Light Horse Volunteer Corps.
Captain and Honorary Major James Townsend Oswald, retired.
Masons who turned our in large numbers with representatives from other parts of the county headed his funeral processions. In a letter of condolence from Lodge St Clair of Dysart,520  Lord Rosslyn, RWM referred to the great loss of a great friend and true brother suffered in the death of their Provincial Grand Master. Major Oswald had always taken a kind and sincere interest in Freemasonry in general and particularly the Dysart Lodge.
His Gravestone Is Situated In The Grounds Of Kirkcaldy Old Kirk
On 15 March 1843 Mr Johnston was asked to advertise for plans for a new church, on a site on Townsend Place that belonged to Mr Oswald, and this was the beginning of our church's connection with its present site. The plans that had been submitted were considered on 7 April, and it was agreed that those of John Baird, a prominent Glasgow architect, should be accepted.
The foundation stone was laid on 19 July, the same day on which foundations stones were also laid of the new extension pier at the harbour and of the new Academy at Loan Wells. All of this was combined in a single extended event accompanied with full masonic and civic ceremonial, on a scale that can have had few equals in Kirkcaldy's history. (It is perhaps worth mentioning that the rector himself was a keen freemason.) The procession started at the Town House, which was where Marks and Spencer now stands, and moved off down High Street to the harbour. It then returned to Whyte's Causeway and the Academy before going on to Townsend Place and the site of the new church. Having reached the site of the church 'The stone was lowered to the beautiful air of the Evening Hymn, and having been laid with Masonic rites – with corn, wine, and oil, as in the preceding instances – the Grand Master proceeded to make the remarks which the occasion required, and concluded by trusting that the Great Architect of the universe would vouchsafe a blessing on their labours.' All of this, with a liberal interspersal of speeches, took about three hours, and was followed by no less than four public dinners in various parts of the town. The Episcopalian party apparently spent the evening at the hospitable house of Bailie Walker in Pathhead.
The total cost of the new church was about £1,500, with nearly half of that sum being subscribed by local landowners. Among the principal contractors were the mason Thomas Spears of Linktown, the wrights Hunter and Sons, and the heating engineer George Haden of Edinburgh. The work of construction was completed in 1844, and the church was opened for worship at a service conducted by Bishop Terrot of Edinburgh. It is said that the bishop found he had forgotten his sermon notes, though it seems this did not prevent him delivering a powerful and eloquent address. The church was apparently eventually formally consecrated in 1852.
Continuing the progressive improvement of the quality of furnishings in the church, at Christmas 1893 the splendid brass eagle lectern which still graces our church was dedicated. It was given to commemorate one of St Peter's greatest benefactors, Major J.T. Oswald of Dunnikier. In the following year a Sunday School was proposed, although special children's services were already being held. It was realised, however, that if this were to be accomplished effectively there was a need for a church hall, and thus one of St Peter's next targets was identified, with the suggestion that it should be a memorial to Major Oswald.
Captain Randolph Gordon Erskine Wemyss
Randolph Gordon Erskine Wemyss joined the Lodge Oswald of Dunnikier on 24th September 1888
But by 1890 and after a meeting in his district of west wemyss on 24th april 1890 he decided that a lodge be set up in that district and on the 7th august 1890 the Grand Lodge of Scotland granted a charter to Lodge Wemyss and the number 777 Bro Randolph G E Wemyss became R.W.M of that said lodge.
Robert Francis St Clair-Erskine, 4th Earl of Rosslyn
Robert francis st-clair erskine joined the Lodge Oswald of Dunnikier along with James Townsend Oswald on the 8th of april 1867 and was appointed substitute master
In Addition to being Grand Master of the Grand Lodge of Scotland between 1870 and 1873, Lord Rosslyn also served as Grand Master of the Order of the Temple from 1884 until his death in 1890.
Robert Francis St clair-Erskine Died 8th of September 1890 and was interred at Rosslyn chapel on 11th of September.(it will be noted that the late Bro signed our petition for a charter as Substitute Master).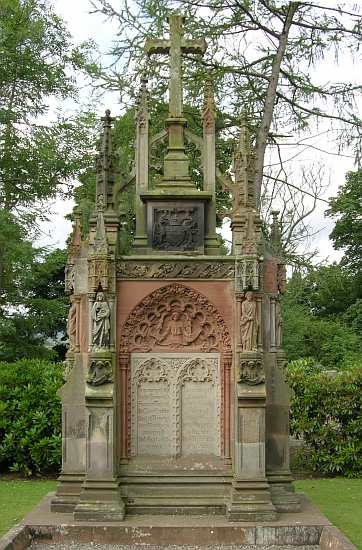 Ronald Craufurd Munro Ferguson, 1st Viscount Novar
Ronald Craufurd Munro Ferguson joined The Oswald of Dunnikier Lodge on the 24th December 1888
He was a Scottish politician and colonial governor. He served as the sixth Governor-General of Australia(1914–1920), and is considered probably the most politically influential holder of this post. After his return to Britain he was Secretary for Scotland (1922–24).
In February 1914, therefore, Munro Ferguson was happy to accept the post of Governor-General of Australia
On his return home, he was raised to the peerage as Viscount Novar, of Raith in the County of Fife and of Novar in the County of Ross
Lord Novar died at his home in 1934, aged 74, his title dying with him as he left no issue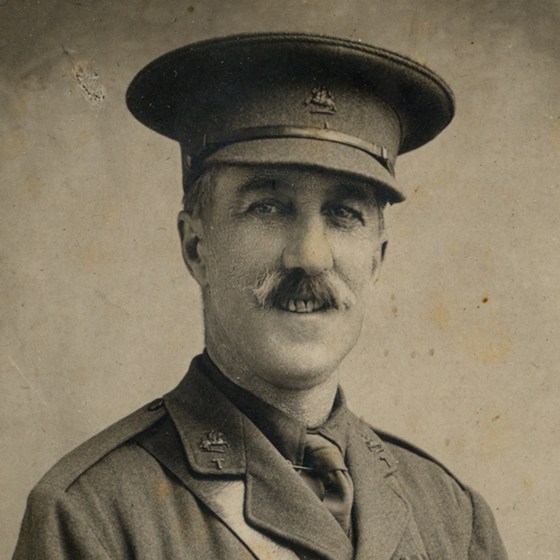 LT-COL ST CLAIR OSWALD
OSWALD, Col. St. Clair, C.B., of Dunnikier,
Fife.
Younger son of James Townsend Oswald, Esq., J.P. and D.L., of Dunnikier, «ho d. 1893, by Ellen Octavia, who d. 1907, 3rd dau. of the late Philip John Miles, Esq., of Leigh Court, Somerset ; b. 1858 ; s. his brother John Oswald, Esq., J.P. and D.L., 1917; )". 1915 Elizabeth Winifred, dau. of Reginald Martin Osborne, Esq., J. P., of Broadway, St. Ives, Huntingdon-shire. Col. Oswald, who was educated at Eton, is a J.P. and D.L. for Fife, and Brevet Col. ret., late 3rd Hussars ; subsequently Lieut.-Col. Fife and Forfar Yeo. — Dunnikier, Kirkcaldy, Fife ; Naval and Military
Club, w. ; New Club, Edinburgh
https://livesofthefirstworldwar.org/lifestory/7662885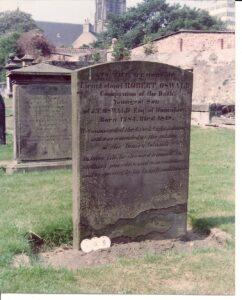 Sir Michael Nairn
Sir Michael Nairn of Rankeilour, 2nd Baronet. was born on 19 February 1874.2 He was the son of Sir Michael Barker Nairn of Rankeilour, 1st Baronet.  He died on 24 September 1952 at age 78  Sir Michael Nairn joined the Lodge Oswald of Dunnikier 468  on the 5th March 1923
He was educated at Edinburgh Academy, Edinburgh, Midlothian, Scotland He was educated at Sherborne School, Sherborne, Dorset, England He was educated at Marburg University, Marburg, Germany He was Director of the Bank of Scotland He held the office of Deputy Lieutenant (D.L.) of Fife He was chairman of Michael Nairn and Greenwich Ltd He held the office of Justice of the Peace (J.P.) for Fife He succeeded to the title of 2nd Baronet Nairn, of Rankeilour, Collessie, and Dysart House, Dysart, co. Fife [U.K., 1904] on 24 November 1915
William Morris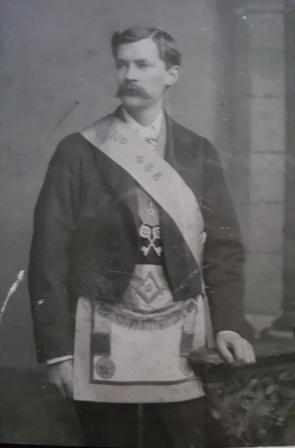 William Morris Joined The Lodge on the 29th of July 1867 and was Treasurer from 1869 – 1874
George Lindsay Legge
George Lindsay Legge Architect Kirkcaldy
He was Initiated into Lodge Oswald of Dunnikier Lodge 468 on 13/1 1896
George was born on 14/01/1874 and died 13/03/1905
George Lindsay Legge was born in Peterhead on 14 Jan 1874, the son of Rev Alexander Legge, the Congregational minister there and his wife Isabella Macdonald Leith. Nothing is yet known of Legge's early years and training. He was taken into partnership by John Daniel Swanston (b. Dundee 1868) c.1896, Swanston having commenced private practice the previous year at 196 High Street, Kirkcaldy. The practice was short-lived as Legge left Kirkcaldy to take up the post of Burgh Surveyor in Kingussie in 1903. His stay in Kingussie was also brief as he died on 13 March 1905 at Kilconquhar Manse, his father having by then moved there to become Church of Scotland minister.
He was involed in the Design of these Buildings
1897 Bain Hall Leven Fife Scotland Won competition and appointed as architects for job
1897 Hotel Leven Fife Scotland
1897 Property for Provost Black Kirkcaldy Fife Scotland
1897 Proposed Manse Fife Scotland
1897 Villa, Dalhousie Street Carnoustie Angus Scotland
1898 30 High Street Dunbar East Lothian Scotland
1898 69 (Redholm) – 81 Milton Road and Munro Street Kirkcaldy Fife Scotland
1898 New Street building Kirkcaldy Fife Scotland
1898 Tenements and double villa in Norman Road for Dysart Building Company Dysart Fife Scotland
1899 31-35 High Street Dunbar East Lothian Scotland
1899 Meffan Institute Forfar Angus Scotland Unsuccessful competition design exhibited
1899 New Port Buildings Burntisland Fife Scotland
1899 Tenements, High Street Kinghorn Fife Scotland
1900 House for Dr Robertson New Scone Perthshire Scotland
1900 Rockview Elie Fife Scotland Alterations
1902 British Linen Bank Kingussie Inverness-shire Scotland Additions and alterations
1902 Villa for Mr Jones Kingussie Inverness-shire Scotland
1903 Kingussie Parish Church Kingussie Inverness-shire Scotland Memorial tablet to Alex Macpherson
John Dalgleish Easton
Initiated into Lodge Oswald of Dunnikier 468 on 16/06/ 1902
John Dalgleish Easton
who was born on 10 November, 1876, died on 13 March, 1968.
Educated at Pathhead School, Kirkcaldy, and privately, he received practical
training under J. L. Lumsden, Burgh Engineer of Kirkcaldy, from 1892-96.
Over the next 15 years he gained wide experience of docks and hydraulic
schemes in the service of C. S. Meik, Consulting Engineer of Edinburgh, whose
ofice he joined as an Assistant in 1898. A year later he became Chief
Assistant and in this capacity prepared plans for dock and hydraulic installa tions and carried out several Parliamentary surveys-for a new harbour at
Warkworth, an extension to a pier at Portobello and for tramways in Dundee
and Fife, After preparing contract plans for Newburgh and North Fife
Railway, he was put in charge of design and contract plans for the Loch
Leven water-power scheme in 1904 (cost f600 000). For the next four years
he held the post of Deputy Resident Engineer at Kinlochleven, Argyllshire,
subsequently taking over entire charge of the Loch Leven water power w&rks
for Messrs Meik, as Resident Engineer.
In 1911 Easton went to Egypt to take surveys and borings for the projected
harbour at Ras Gunsa on the Red Sea. For the next two years he worked
as Chief Assistant to C. S. Meik (F) on designs and reports for hydraulic
schemes in Britain and Europe.
The year 1913 proved a decisive point in his career. It was then he joined
the Leith Dock Commission, starting as Chief Assistant to Alfred Roberts (F),
Engineer and Superintendent at the Docks. And to the Leith Docks Easton
devoted the rest of his career-32 years. First as Chief Assistant, later-after
Mr Roberts' retirement-as Superintendent, Chief Engineer and Clerk to the
Commission, he was responsible for a large number of improvements. Main tenance and repairs apart, he had charge of the construction of new ware houses, quay sheds and cranes, grain plant, dredging, pumping and electric
plant, new railways, roads and bridges. But the original purpose of his
appointment in 1913-to plan and carry out an extension to the Docks-was
prevented by the outbreak of World War I, and in the changed economic
conditions of the post-war period the extension scheme lapsed. It was started
again in the mid-thirties, when Easton planned and constructed the new west
harbour. Again war intervened, this time interfering with but not stopping
the work. Construction of new breakwaters, a new quay wall and the entrance
to the harbour were completed towards the end of World War 11. The final
pm of what is basically the original scheme is now being carried out.
During the war he was chairman of various Ministry of War Transport
movement of goods. He also represented the East of Scotland ports on various
Committees at the port in connexion with shipping traffic and the storage and
committees of the Dock and Harbour Authorities Association in London.
He retired from Leith Docks Commission in 1945.
Engineers, he was at one time Chairman of the Edinburgh and East of Scotland
A member of the Institute of Transport and of the Institution of Structural
Association.
He was for 56 yeam on the Roll of the Institution, being elected a Corporate
Member in 1911. He became a Fellow in 1925
Adam Legge Johnson
Initiated into Lodge Oswald of Dunnikier 468 on 28/04/1919
Adam Legge JohnstoN
Born: 1880 or 1881
Died: 19 September 1956(?)
Bio Notes: Adam Legge Johnston was born in 1880 or 1881, the son of George Pyper Johnston, bookseller, and his wife Elvina Isabella Legge. He practised in Kirkcaldy, commencing practice in 1920 in partnership with David Forbes Smith, also of Kirkcaldy. He was admitted LRIBA in early 1925. He had a long connection with co-operative societies, and also worked on model bakeries. He was joined in partnership in 1952 by J A Harris and A Moyes.
He died on 19 September 1956,
Buildings and Designs
Bakery, Alva Alva Clackmannanshire Scotland
Bakery, Blairgowrie Blairgowrie Perthshire Scotland
Bakery, Kirkcaldy Kirkcaldy Fife Scotland
Carpet Factory Dysart Fife Scotland
Co-operative Bakery Montrose Angus Scotland
Model Bakery, Inverness Inverness Inverness-shire Scotland
Shops and Houses, Normand Road Dysart Fife scotland
Strathore Hospital Thornton Fife Scotland Alterations –
After 1920 Dysart Free Church (former) Dysart Fife Scotland Unspecified work on Masonic Hall
1923 Dairy and dwelling house for Dysart Co-operative Society Ltd Dysart Fife Scotland
1927 Kirkcaldy District Joint Hospital Fife Scotland Additions to north block
1932 Bakery for Dysart Co-operative Society Gallatown, Kirkcaldy Fife Scotland
1932 Five new shops and other premises for Cupar Co-operative Society Ltd, Bonnygate Cupar Fife Scotland
1933 Co-operative Bakery, Dysart Dysart Fife Scotland
1947 Garage for Muir & Sons Limited Newarthill Lanarkshire Scotland
David Suttie Mcllroy
Initiatecd into Lodge Oswald of Dunnikier 468 on 16/03/1899
David Suttie McIlroy was born on 5 October 1872. He was articled to John Murray of Kirkcaldy from 1885 until 1890 when he obtained a place in Kinnear & Peddie's office as an improver. In 1891 he moved to the office of Alexander Fraser and remained there until 1899 when he moved to the office of David Forbes Smith in Kirkcaldy. In 1903 he obtained a salaried post in the Admiralty Works Department at the Rosyth naval base, but in 1905 he emigrated to Canada to work for Darling & Pearson in Winnipeg. He moved to the Canadian Northern Railway Architects' Department later the same year. In the following year he moved yet again to John Woodman. He commenced independent practice in Calgary in 1907. He was a Fellow of the Royal Canadian Institute of Architects and a Commonwealth Associate member of the Edinburgh Architectural Association.
This was involved with the following buildings or structures from the date specified (click on an item to view details):
Date started Building name Town, district or village Island City or county Country Notes
After 1885 Villa for James Black Kirkcaldy Fife Scotland
1887 The Laurels Kirkcaldy Fife Scotland
1888 Infants' School Kinghorn Fife Scotland
1889 Villa for John Harley Kirkcaldy Fife Scotland
After 1890 Dunnikier House Kirkcaldy Fife Scotland
After 1890 Elgin Linoleum Works Kirkcaldy Fife Scotland
1891 Corstorphine Convalescent Home Corstorphine Edinburgh Scotland
1891 Fife and Kinross District Asylum Springfield, Cupar Fife Scotland
1891 Longmore Hospital for Incurables Newington Edinburgh Scotland
c. 1899 Business premises Pathhead, Kirkcaldy Fife Scotland
c. 1899 Business premises Kirkcaldy Fife Scotland
c. 1899 Business premises Sinclairtown, Kirkcaldy Fife Scotland
1899 Villa for A Kilgour Kirkcaldy Fife Scotland
1899 Villa for A Melville Kirkcaldy Fife Scotland
1899 Villa for Ivie (?) Campbell Kirkcaldy Fife Scotland
1901 Strathearn Villa Kirkcaldy Fife Scotland
1902 Boreland School Boreland Fife Scotland
1902 Gallatown School Gallatown, Kirkcaldy Fife Scotland
1902 North Primary School Pathhead/Dunnikier, Kirkcaldy Fife Scotland
1903 Royal Naval Establishment Rosyth Fife Scotland New buildings –
McIlrory emigrated to Canada in 1905 and settled in Winnipeg, where he accepted a position in the local branch office of Darling & Pearson. Shortly after, he joined the architectural department of the Canadian Northern Railway in Winnipeg (1905-06), and then worked as assistant to John Woodman (in 1906-07). With a broad range of experience from leading offices in Scotland and Canada, he decided to move to Calgary to open his own office in July 1907. He was immediately successful in obtaining a variety of commissions for residential, commercial and institutional work, but he had a particular interest and skill in the field of ecclesiastical architecture, best seen in his refined Gothic design for First Baptist Church, Calgary (1911-12). This particular building so impressed the congregation of Robertson Presbyterian Church in Edmonton that they asked him for a virtual copy of the building (with slight modifications to the external massing), which was then completed in 1914.
Walter Pringle Proudfoot 
Initiated into Lodge Oswald of Dunnikier 468 on 21/06/1909
A well-known consulting civil engineer. Mr W. P. Proudfoot, The Elms, Kirkcaldy. A native of Leuchars, Born 1876 and died 1942 Mr Proudfoot became associated many years ago with Mr C. E. Bruce, civil engineer, Cupar and Kirkcaldy, and for many years carried on the firm of Messrs Bruce and Proudfoot. Practising in Fife for forty years, Mr Proudfoot was an acknowledged authority on such schemes as water supplies, and drainage works, and these he undertook successfully both in the county and beyond it. He was a member of both panels of civil engineers appointed by the Home Office in connection with Reservoir (Safety Provisions) Act, 1930, where his advice was highly respected, and he was engaged by many firms, and also by the Burgh Leven, in connection with Fife Provisional Order, 1940. During the twenty-five years in which he was engineer to the River Leven Trustees, Mr Proudfoot carried out many improvements the river from Loch Leven to the estuary on the Firth of Forth. He is survived by his widow, three daughters and one son, who is a captain in the R.A.S.C.
James Law Lumsden
James law Lumsden Burgh Surveyor Kirkcaldy
Initiated into lodge Oswald of Dunnikier 468  on 7/9/1891 19 Douglas Street Kirkcaldy
building and designs
1898 Pathhead Public Hall
1907 Kirkcaldy Burgh Infectous Diseases Hospital
1914 Fire Station Cowan Street
Robert Glasgow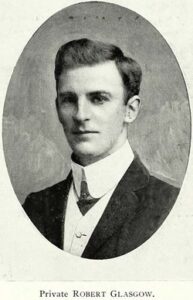 GLASGOW, Robert
Service Number:
391
Enlisted:
1 September 1914, Enlisted at Sydney, NSW
Last Rank:
Private
Last Unit:
3rd Infantry Battalion
Born:
Kirkcaldy, Scotland, United Kingdom, 1879
Home Town:
Sydney, City of Sydney, New South Wales
Schooling:
Kirkcaldy High School, Scotland
Occupation:
Engineer
Died:
Killed in Action, Gallipoli, Ottoman Empire, Gallipoli, Dardanelles, Turkey, 27 April 1915
Cemetery:
No known grave – "Known Unto God"
No known grave Panel 20, Lone Pine Memorial, Gallipoli Peninsula, Canakkale Province, Turkey
Memorials:
Australian War Memorial Roll of Honour, Lone Pine Memorial to the Missing
Son of the Rev. Robert and Margaret Kerr Glasgow of 31 Abercorn Terrace, Portobello, Scotland
Medals: 1914-15 Star, British War Medal, Victory Medal
Also served with the volunteers at Kirkcaldy, Scotland and with the Royal Garrsion Artillery, Rangoon
Served a 6 year apprenticeship with Douglas Reut
He served with the 3rd Bn. Australian Infantry, A.I.F. Service No:391. He fell in action with the Australian landings at Sari Bair.
He was 36 and the son of the Rev. Robert Glasgow [Parish Minister of Invertiel] and Marget Ker Glasgow of 31 Abercorn Terrace, Portobello, Scotland.
He is remembered on the family grave at Abbotshall Churchyard, Kirkcaldy, Fifeshire, Scotland.
He is one of more than 20 Australian casualties of the Great War who are commemorated on the Kirkcaldy War Memorial.
Robert was initiated in the Lodge Oswald of Dunnikier 468 on the 26/07/1909
Sportsmen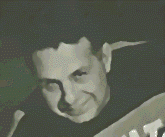 Jimmy Chappell was a former ice hockey player who played for Fife Flyers and also the Great Britain National team who won the Gold Medal at the 1936 winter Olympics Jimmy joined The Oswald of Dunnikier on the 20th of February 1939
Colin Dand played 146 games for Hearts during his career 1921-27 scoring 27 times before moving to Dunfermline in 1927
Colin joined The Oswald of Dunnikier on the 30th October 1922

David Kinnear was born in Kirkcaldy during the dark days of the First World War and was educated at Viewforth Secondary School. His football career commenced at Burntisland United and he signed for Raith Rovers in 1933. He joined Rangers one year later at the age of just 17, David made 106 appearances for Rangers scoring 32 times He signed for dunfermline in 1946 and played 65 times scoring 16 goals
He returned to Ibrox in 1956 as physiotherapist before leaving the club in 1970
David joined The Oswald of Dunnikier on the 15th February 1937
---